At Innovative Options, we apply the same product pricing policy on all our standard commercial products.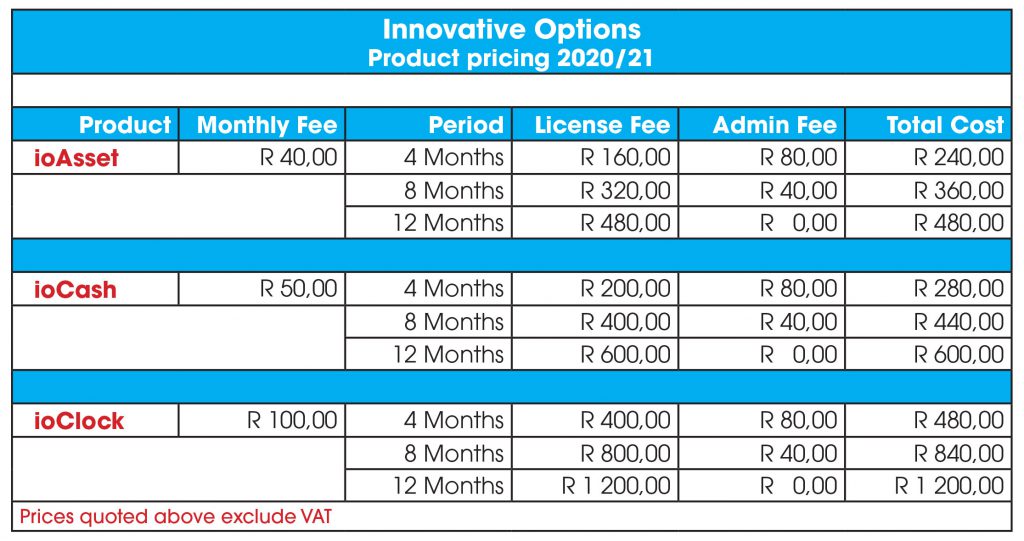 All our standard products carry a 4-month FREE trial period with full access to all features! Try them risk-free.
With all our standard small business software products:
We offer users a 4-month trial on our software. They are granted full access, FREE OF CHARGE, to evaluate the product and assess if it suits and would benefit their business.
After this trial period ends, users need to register and pay license fees to continue using the product.
We do not sell our products. They receive a subscription license for the paid-for period.
We do not have fixed contract periods. Renewals are dependent on user satisfaction.
Our fees are quoted as a monthly fee, but are payable annually in advance.
To make it even more affordable, users may break down the license cycle into 4- or 8-month cycles instead of the customary 12-month cycle.
A small administration fee will be added in for each 4- or 8-month cycle to cover the additional admin required for multiple registrations.
Our fee cycle runs parallel to our financial year (1 March to end February).
We may adjust our fees on 1 March of each year.
All fees quoted exclude VAT (Value Added Tax).
Our product selection
View our standard product offering here:
ioClock Innovative staff and attendance management
ioAsset Innovative asset management
ioCash Innovative cash management
We also offer custom solutions tailor-made for your business.
If you require one-off conversions or new product development, chat to us for an individual quote. Our quotation will be based on the complexity of the project and content required.
Contact us to discuss your requirements.